People
I have always been a people watcher. I am attracted to faces that show character. We are all connected, in that we all experience emotions, like joy, love, sadness. Faces reveal so much about life, and so, for me, portraits are like a window on the human condition.
Maui Man
I saw this person while on vacation with my family. I happened to have an artist's demo scheduled not long after my return to Canada, and I was to be demonstrating watercolour portraiture, and here was an irresistible subject! I approached him, and after showing him and his lady my work, I asked if they minded if I photographed them to do paintings. We spent about half an hour together, at which time, I asked them for their email address. Their reply was, " We don't do that stuff, Man. " The painting is a full sheet watercolour.
Geppetto's Birds
I saw this wonderful artist while on Granville Island one day. He was setting up a display of his hand carved birds, and the scene was so incredible, with the light coming in the window of his shop, that I had to ask him if I could paint him! He forgot about it, and the painting became the cover art for Opus Framing and Art Supplies Visiting Artists circular. Apparently, he saw the painting and papered the window of his shop with the brochure! His shop is now on Main Street, I think.
Discourse With Coffee
This is Maui Man's lady friend…
Man in Plaid
This painting has a story that is near and dear to my heart. I kind of approached this lovely gentleman at a car show, by holding up my camera, and asking permission with a smile and raised eyebrow. This was his answer! I never asked his name or spoke to him, but I loved the image so much that when I found out about the International Watercolor Society's first Canadian Biennale, I decided to paint him for my entry.. I sweated over this painting for over 120 hours! My painting was chosen, and that led to Opus asking me to become a member of their visiting artist's series .
Eventually, I posted the image on my FaceBook account, and one of my ex-students contacted me, and said, " I think that's my dad!" It wasn't, because she introduced us, but he turned out to be the grandfather of one of my other students! Unfortunately, this lovely gentleman has passed away, but his family used the painting at the memorial service. I am glad that it reminds them of happy times.
Handlebar Man
This was another car show subject! I used his image for another artist's demo at Opus Framing and Art Supplies.
Tulum Tour Guide
Meet our charismatic tour guide… I loved the hat, and the pattern that the shadows made on his face.
Maui Man 2
I had this amazing picture of Maui Man, and it was so playful, that I had to loosen up with the colour to suit him!
Refuge Cove
This lady runs the gift shop in Refuge Cove. She graciously posed for me. I loved the pensive quality of her expression.
This is a portrait of an old family friend. He is a philosophical man, and a carpenter. I hoped to capture his introspective nature… I believe I did, because, not only did the original sell, his mother bought a giclee print of it.
Another piece, the first one I painted of him. I trailed after him with my camera for more than two hours, until I caught him unaware. This is also gone, a gift to him.
Fresh Catch
This man was cleaning his catch off the back of the boat, and I couldn't resist his smile!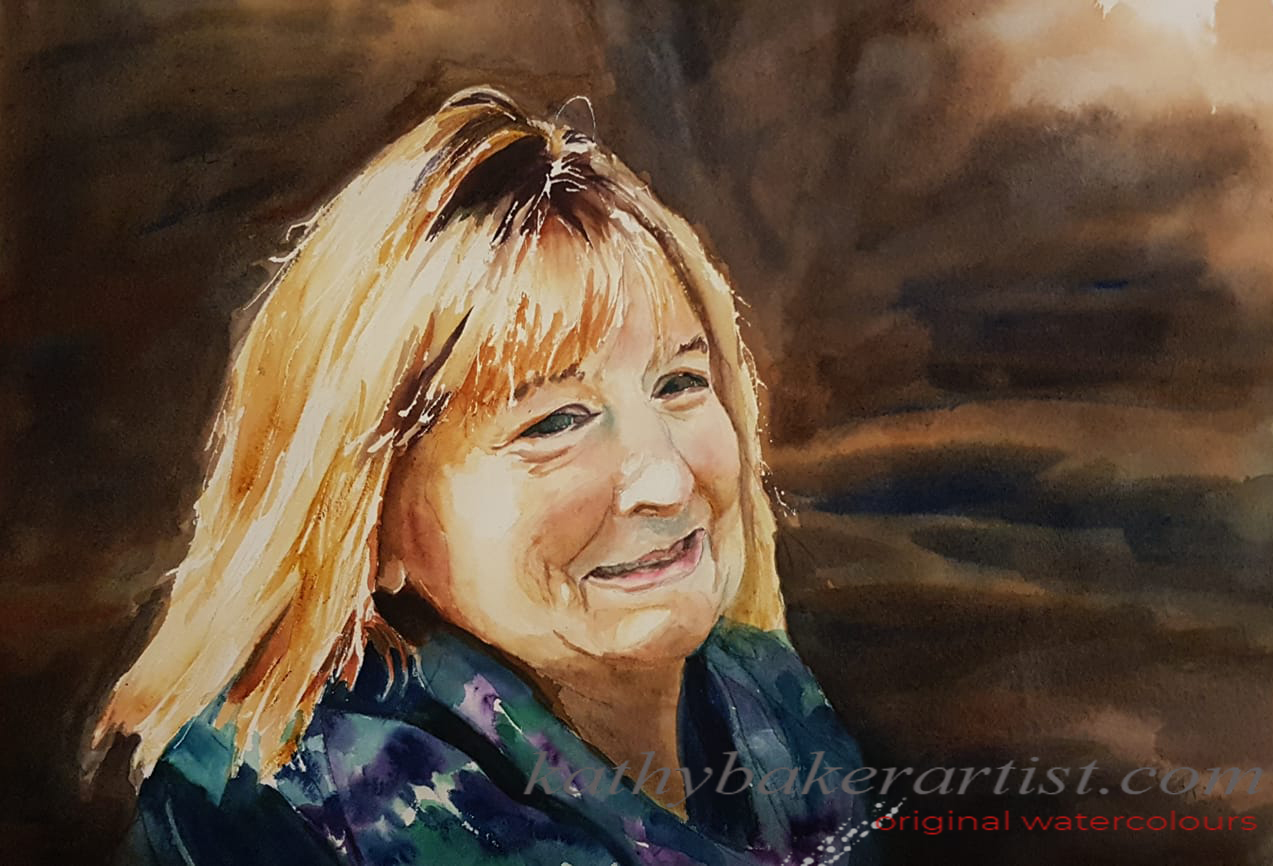 Jean
This is a commissioned piece, done as a draw prize for people who purchased art from me at my solo show. This lovely lady decided that she wanted an image of herself to give to her kids. We went out in the "back 40" with a camera, in the sun, and took lots of photos… this is the result!